Пресса про клавиатуру «Оптимус Тактус»
Au doigt et à l'oeil

"Office et Culture", 09.2008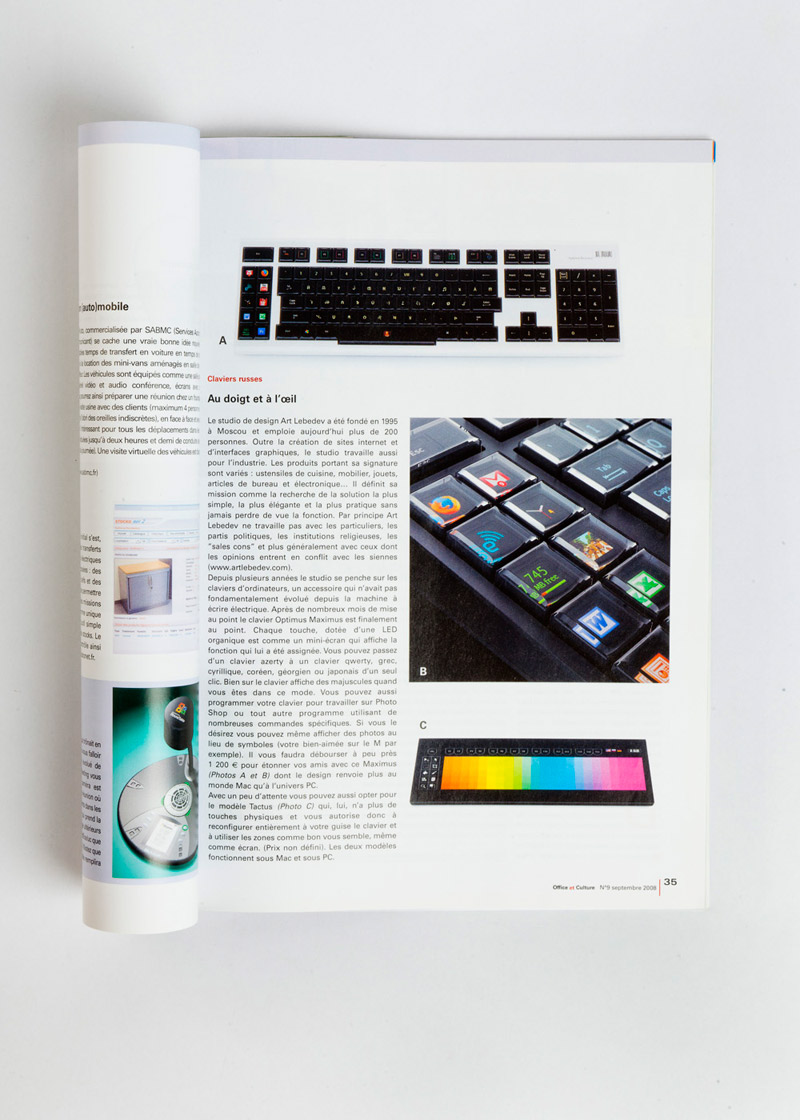 ---
L'Optimus Tactus : un clavier avec dalle tactile?

Vincent Ramarques, www.clubic.com, 31.12.2007
Alors qu'Art Lebedev peine à sortir son clavier avec touche OLED (voir Le clavier OLED Optimus a nouveau... retardé !), le studio, à la base spécialisé dans le design, imagine déjà l'après Optimus. Avec le concept " Optimus Tactus ", Art Lebedev présente ainsi un clavier qui pourrait être doté d'une large dalle LCD entièrement tactile.
Grâce à cette dalle, le clavier serait totalement plat (ce qui risque d'être assez déroutant) et pourrait afficher n'importe quel graphisme. Le clavier pourrait ainsi présenter les touches d'un clavier classique (avec des raccourcis vers les applications du choix de l'utilisateur) et changer d'affichage rapidement pour, par exemple, afficher de la vidéo ? Pour le moment, il ne s'agit que d'un concept et Art Lebedev ne parle pas de la moindre production / conception à l'heure où nous écrivons ces lignes. Reste que l'intégration d'une dalle LCD tactile dans un clavier semble beaucoup moins onéreux / compliqué que d'intégrer des centaines de touches avec écrans OLED... Mais d'autres difficultés techniques et commerciales restent à être surmontées...
---
Art Lebedev Reveals Optimus Successor

Gordon Kelly, www.trustedreviews.com, 30.12.2007
So you've just laid down almost £1k on a new Art Lebedev Optimus Maximus keyboard and then the sods do this...
Dubbed the 'Optimus Tactus', it is a prototyped touch screen keyboard with unlimited customisability that leaves the Maximus looking a little Minimus.

Despite revealing virtually no hard facts whatsoever, Lebedev simply states the Tactus "does not have physical keys, which means there are no restrictions on their shape and size. Any part of the keyboard surface can be programmed to perform any function or to display any images."
Strangely, Lebedev neglects to mention video is also within its remit too as the design studio demonstrates this feat with a classic snippet from Russiantastic faux-lesbian-brief-supergroup Tatu's schoolgirl-alicious "All the things she said" music video. Less titillating, but arguably more useful however are the top right shortcuts to quickly change language layouts and formatting.

Of course success will all depend on how well Lebedev manages to replicate the tactility of a traditional keyboard but with vibration feedback systems commonplace these days a solution may already be at hand.
Personally I would love to see these in laptops where keyboard space can be restrictive. Quick access to the number pad would be a boon for starters, while the ability to effortlessly switch language would save manufacturers the trouble / cost of allocating country-specific keys and — presumably — the whole caboodle would be sealed (and therefore waterproof) and save space and weight too.
Now there's a thought Apple, Dell, Samsung, Sony, Lenovo...
---
Art Lebedev kills us with Optimus Tactus keyboard concept

Ryan Block, www.engadget.com, 28.12.2007
Yeah, you thought the Optimus Maximus was the holy grail of keyboarding — then you saw the Optimus Tactus, a giant touch sensor display tablet keyboard that could do all the sorts of crazy stuff the Maximus can't even touch, like playing movies and being a gigantic color swatch. That is, if it weren't a concept. (Then again, the Maximus started out as a concept as well just a couple of years back, so who knows.) The only thing we don't get: the name. Tactus? Touch-sensitive doesn't exactly shout tactility to us, but since it's all just theoretical at this point, maybe by the time keyboards like this exist we'll all be typing on shape-shifting tactile membranes overlaid on touchscreens. That is, if Apple's patents haven't already blocked everyone else off from going there.
---
Optimus Tactus Touch Keyboard Should Be Called Optimus Retardus

Jesus Diaz, gizmodo.com, 28.12.2007
While we love touch surfaces, as people who type hundreds of thousands a word each week we know that there is a limit to them: keyboards. Like this Optimus Tactus, an extruded shape/touch surface/keyboard concept by Art.Lebedev. We really like the soon-to-be-released Optimus keyboard Art but, seriously, how often do you type on your computer?
I can imagine that artists, musicians and video editors would like something like this... however, there are solid LCD tablet displays and Tablet PCs on the market already. Experience shows that, for the time being, it's a limited market. Further limiting it to a keyboard replacement could be economically impractical at best, never mind how practical this could be. The issue of the price is the other key here: by the time a touch surface keyboard could be a commercial reality coming from China via Moscow, touch computing from Apple and Microsoft would be so ubiquitous that it won't make sense anymore.
---
Art Lebedev Optimus Tactus keyboard concept

James Allan Brady, www.slashgear.com, 28.12.2007
Art Lebedev, known mostly for their oft delayed OLED keyboard, has another keyboard concept, and this one is even more genius, and might even be cheaper to produce. Sure, the OLED keys on their Optimus keyboard are cool, but imagine a keyboard you could hang on the wall because its displaying art when not in use.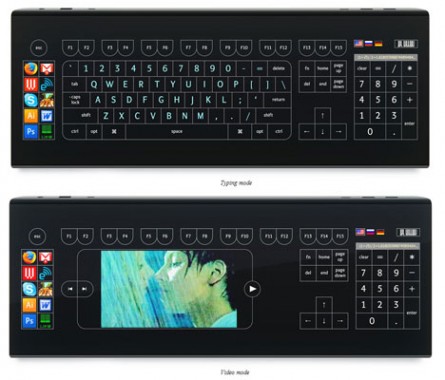 The possibilities are endless with a keyboard that is also a giant Wacom tablet and a second display. I mean just look at the picture where I am pretty sure they are showing the ability to hand draw art on your computer with this keyboard.
I would absolutely love to have an iPod Touch-like interface for my desktop computer, this keyboard would be awesome. The best part, it would take less time to develop (multi-touch LCDs and the programming for them already exist) and it might even be cheaper since they wouldn't be trying to make 104+ individual screens, just one large one.
---